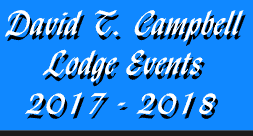 NOTE: All regular meetings start at 7:30 PM sharp except where noted.

September 2017
Installation and Investitures
January 2018

Robbie Burns Night
DRP Degree Team
Early Banquet 6:30 PM

February 2018
Official Visit (D.D.G.M.)
Early Banquet 6:30 PM
April 2018
Past Masters Night
May 2018

Visit to North Star Lodge No. 241,
Warren, PA
33rd Annual Visit
May 18-20, 2018

---

Step-Up Night
on regular meeting night
June 2018
Elections
September 2018

Installation and Investitures
Note: All events held on regular Lodge meeting night except where noted.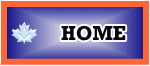 Copyright © 2005-2017 David T. Campbell Lodge No. 706, G.R.C.
Last updated on Friday, December 29, 2017