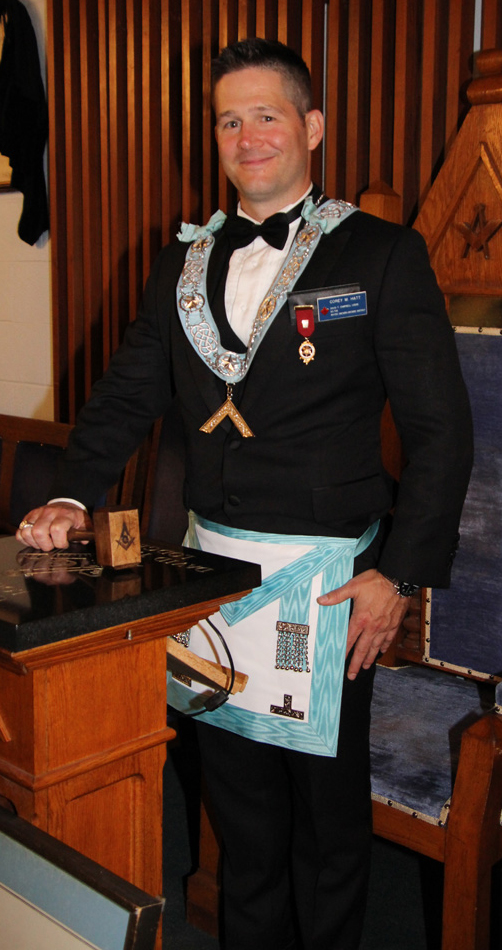 Worshipful Master
Corey M. Hatt
2018 - 2019


MESSAGE FROM THE EAST

Brethren,
Brethren, a new year is already upon us! I hope everybody had a Merry Christmas and was blessed by the GAOTU. As we move into 2019 I would like us to re-focus on the following 3 cornerstones:
Monthly attendance at Lodge (for those active Brethren who are able);
Visitations within the District (particularly to Installations and Official Visits); and
Assisting our Brethren who are interested in being Passed and Raised (by reaching out to encourage and mentor them for their next step).
We have a special January meeting planned for our Annual Robbie Burns night with the creation of a New Military Degree Team which will be raising our Brother Nathan Lauzon who has patiently waited for this opportunity. The evening also will also be a banquet of Haggis and Meat Pies with the attendance of our DDGM, District Secretary, and of course District Piper and other guests!
The Senior Warden has called a Meeting of General Purpose at 7:30 P.M. on Monday February 11th, 2019. If you have some ideas you would like to present, all are welcome all to attend. The New Year will also bring some other special meetings as we have our Official Visit in February, the Shriner Drum Corps Degree Team in March, Past Master's night in April (where W. Bro. Joe Johnson will assume the chair of King Solomon for the evening), Step-Up Night in May (with our soon to be Master-Elect, Bro. Yuri Dimagiba), followed by Elections in June. I hope to see you in Lodge and always welcome feedback and suggestions on how we can continue to strengthen and improve our wonderful establishment.
May the G.A.T.O.U. watch over you, your families, and your loved ones.
Sincerely & Fraternally,
W. Bro. Corey M. Hatt
Freemasonry is many things to many men. Rightly so. It is one of the few organizations that still believes in freedom for the individual, including freedom of thought. Its adherents are free to interpret its symbolism and other facets as their minds, hearts, and consciences may dictate.

It is an organization of men based on the Fatherhood of God and Brotherhood of Man, using builder's tools as symbols to teach basic moral Truths, thereby impressing upon the minds of its members the cardinal virtues of Brotherly Love, Relief, and Truth which they should apply to everyday activities.

Freemasonry is kindness in the home, honesty in business, courtesy in society, fairness in work, pity and concern for the unfortunate, resistance toward the wicked, help for the weak, trust in the strong, forgiveness for the penitent, love for one another and, above all, reverence and love for God. Freemasonry is many things, but most of all: FREEMASONRY IS A WAY OF LIFE.